Alan J. Robinson brings over 30 years of security/law enforcement experience to the security, safety, fire safety, emergency management field. He is a former Supervisor, Protection Services for Disney-ABC, Inc. in New York, where he coordinated the security of millions of dollars in equipment for both Reagan Presidential Inaugurations. While at Disney-ABC he was credited with creating the first hostage negotiation training class after an incident at ABC News in Washington, D.C. Provided executive protection for Disney-ABC executives and celebrities.
He has successfully navigated numerous external agency regulatory compliance surveys including those from the "Joint Commission," State Department of Health, New Jersey Office of Homeland Security and New Jersey Office of Counter-Terrorism.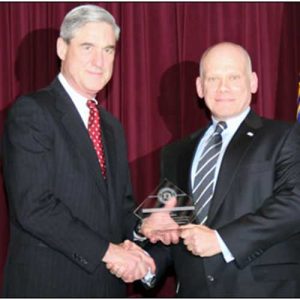 Alan Robinson receives the 2008 Director's Distinguished Community Leadership Award from Robert Mueller, Director of the FBI.
In 2007 Alan Robinson was awarded the "Campus Safety Director of the Year" by Campus Safety Magazine and recognized as a public safety professional "who goes above and beyond the call of duty, demonstrating outstanding leadership skills, ingenuity, selflessness, and overall achievement."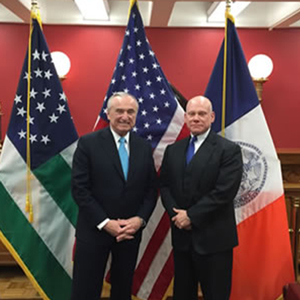 Alan Robinson meets with NYPD Commissioner Bratton
For over 30 years, Mr. Robinson was the corporate director of protection and security services/emergency management for one of the largest healthcare corporations in the Northeast; he directed investigations concerning: workplace violence incidents; drug/narcotic diversion incidents with patients, physicians and nurses; theft; corporate compliance and red cell (penetration studies) at over 300 locations and six (6) acute care hospitals. Mr. Robinson is a nationally known expert in protecting children from sexploitation and molestation and a certified Crowd Manager from the International Association of Venue Managers.
OUR MISSION
Our mission is to anticipate, identify, prioritize, manage and monitor the portfolio of business risks that may potentially impact an organization. Assist with implementing policies, processes, and enabling technologies to execute that approach successfully.
CONTACT RISK AND THREAT ASSESSMENT LLC
We are prepared to provide expert witness testimony to any negligent security case (plaintiff or defendant), proactive threat analysis, etc.